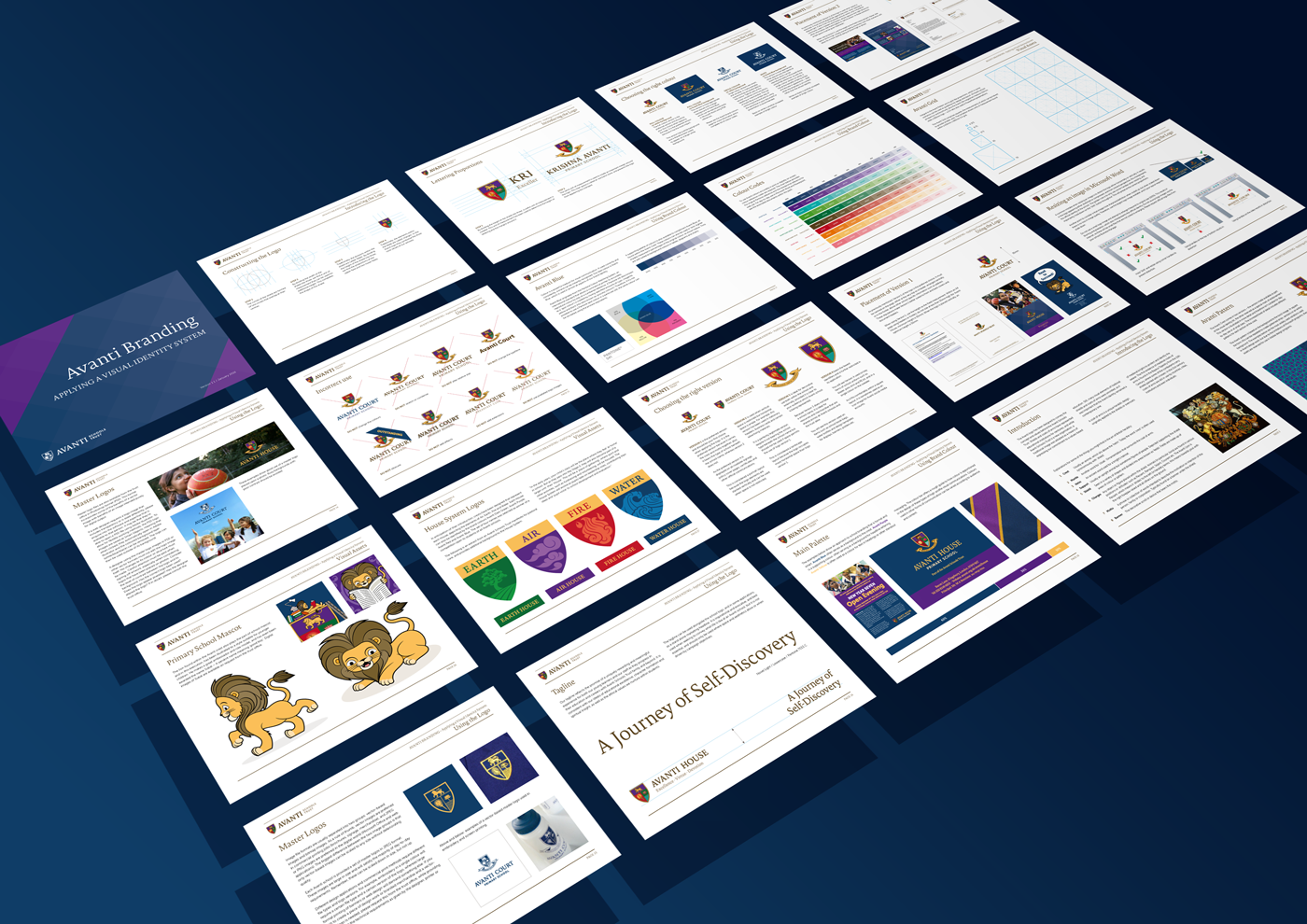 School Crest
The Avanti logo has been designed to convey the concept and values behind the Avanti Schools Trust. Shields and coats of arms have represented educational institutions for centuries, and while Avanti Schools Trust is a new organisation, a traditional image was adopted as a means of expressing commitment to values-based education. However, many elements found in coats of arms were omitted to ensure the identity felt contemporary.
A. Standard Version (used widely)
B. Ceremonial Version (used restrictedly)

Logo Versions 1–4
Version 1 is the preferred version and should be the first choice when applying the logo. It is the preferred version because it carries the crest and motto together, plus it bears the type of school beneath the school name, whereas version 2 does not. As the preferred version it is displayed on all roadside signage, policy cover pages, certificates and other official communications. This is considered a portrait layout because the logo elements are stacked vertically and can be used when space is not restricted.
Version 2 is used when vertical space is restricted. For example, this version has been used in stationary headers, business cards and certain advertising materials.

Logo Colourways
The examples shown below are logo versions 1.1–1.4.

Constructing the Logo
STEP 1: The curves of the shield are formed of two circles that overlap at their centres.
STEP 2: By dividing the width of the shield into three, we find a unit of measurement that can be used for additional height. This completes the shape of the shield.
STEP 3: Traditionally, the divisions within the shield are called 'fields'. By dividing the height of the shield into three, we find the proportions of the upper field and two lower fields.
STEP 4: Traditionally, the elements within the fields are called 'charges'. In the Avanti logo they symbolise the three core values of the schools.

Lettering Proportions
STEP 1: By dividing the height of the shield into three, a useful unit of measurement is created. This unit of measurement has been used to determine the height of lettering and the margins around it.
STEP 2: The same unit of measurement is used to create an important margin around the logo. This clear space is called an 'exclusion zone' and prevents the logo from appearing too cramped.

Lion development – standard and ceremonial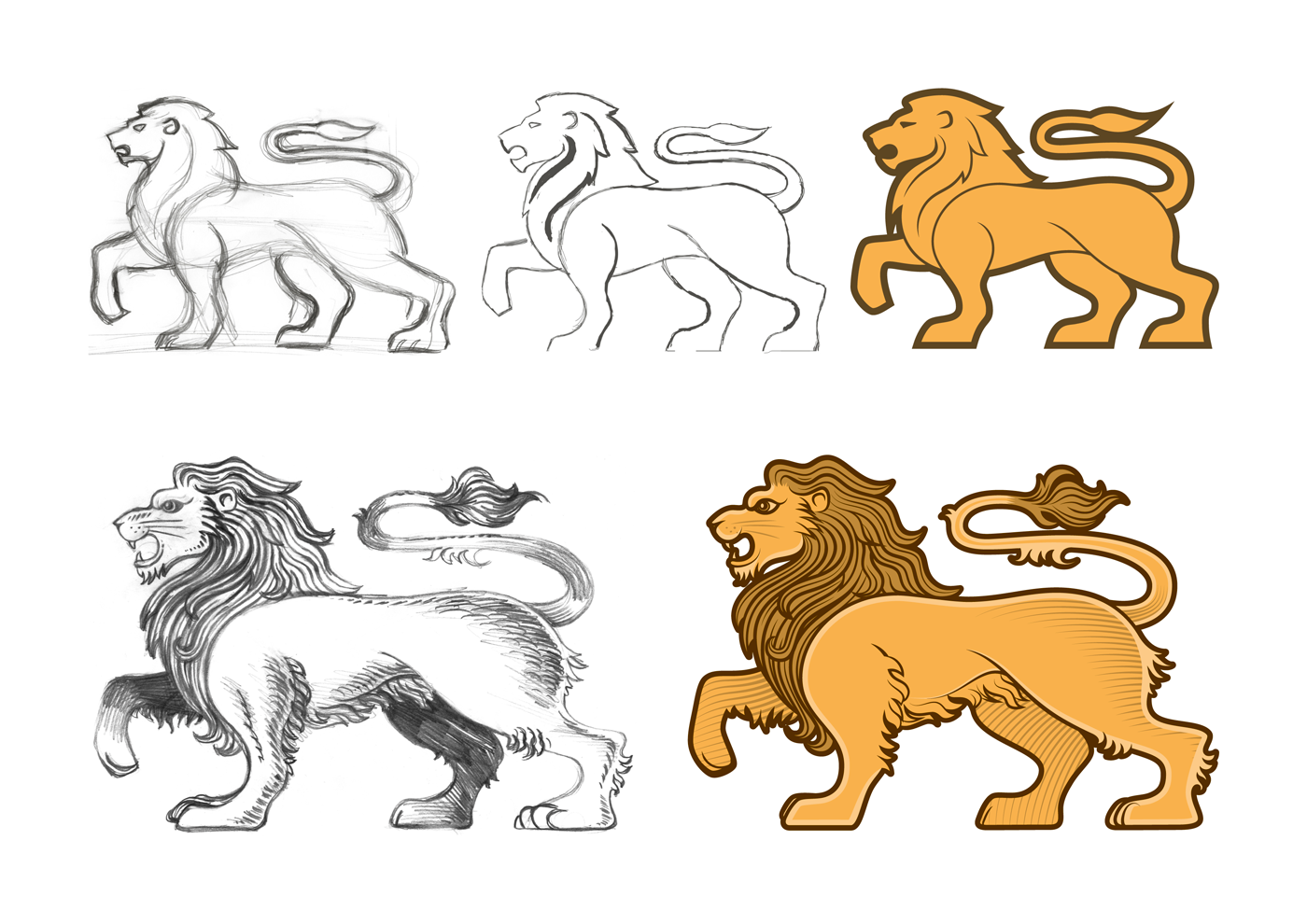 Placement of Version 1
Version 1 must be centred on the page, either at the very top, enlarged centrally, or at the bottom above information such as school address, all of which must be aligned centre. These stipulations make Version 1 better suited to front and back covers and document headers.
When sizing Version 1, use height as a fixed measurement. Within an A4 page using headers or footers, do not size at less than 35mm high. When the logo is placed centrally, an optimum height is 50mm.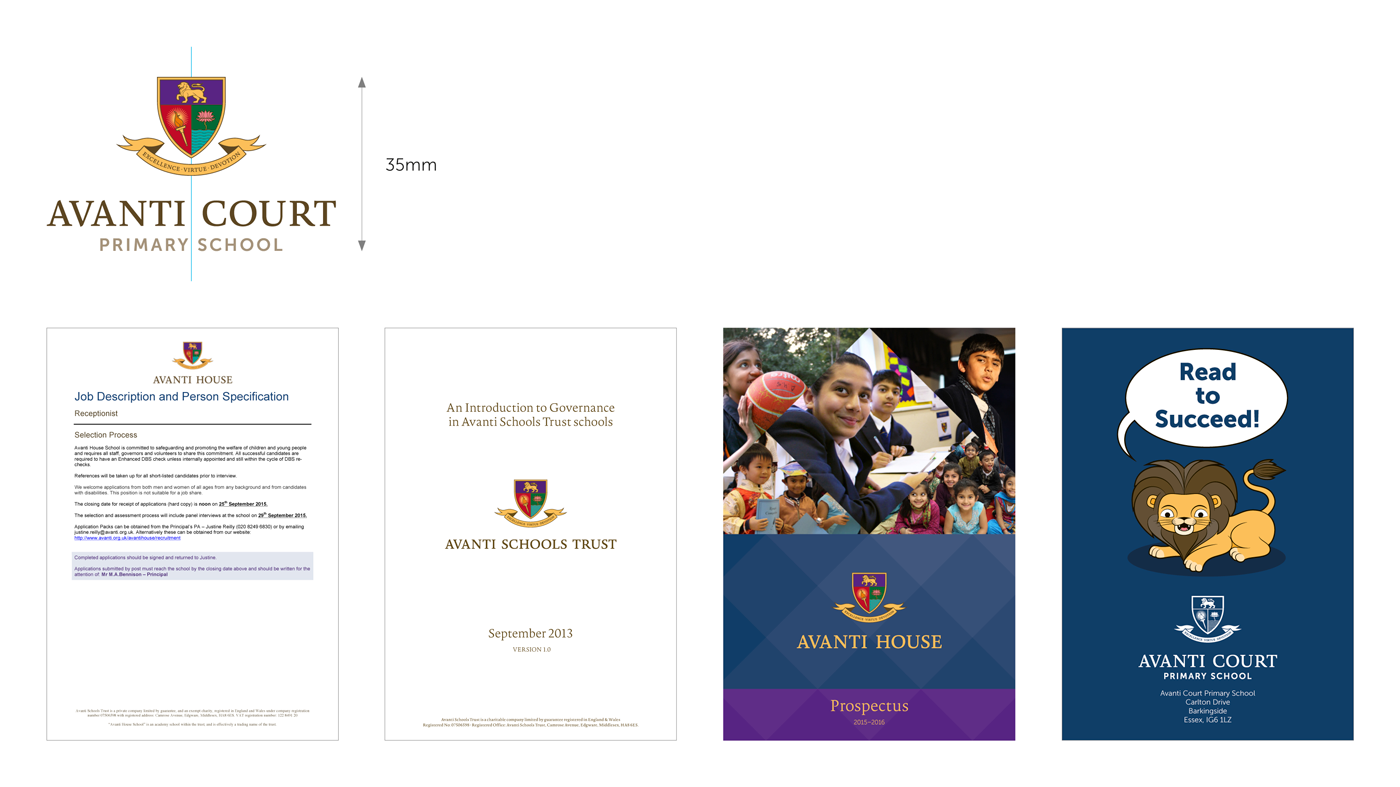 Placement of Version 2
Version 2 of the logo is used when space is restricted. It must only be aligned left against the crest; never centred or aligned right. It also must not be placed vertical centre and is therefore commonly used in headers and footers where space to the right allows for other information e.g: the Avanti tagline or calls to action. In these scenarios, ample space must be given in-between.
When sizing Version 2 use height as a fixed measurement. The lowest size allowed is 10mm as seen on business cards. Most scenarios will allow for a more optimal sizing of 15mm or above.
Examples of Incorrect Use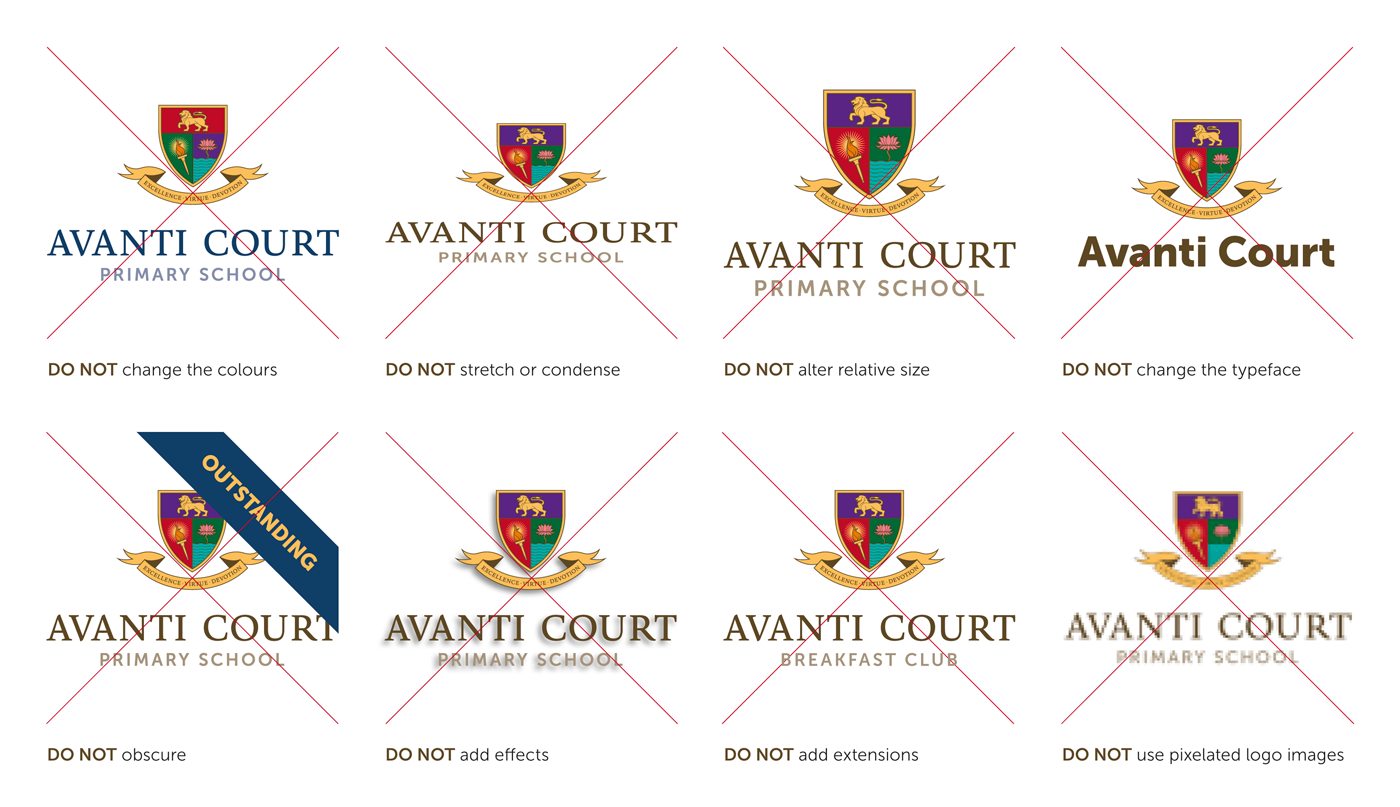 Avanti Blue
Colour is a powerful medium for visual communication. If used correctly and consistently, a brand can be instantly recognised. Our lead colour is Avanti Blue, which is used in almost all aspects of our brand identity.
Avanti Blue originates from the Pantone Colour Matching System, an international standard that allows a commercial printer to accurately reproduce colour by way of a numbered reference. A Pantone ink (also known as a 'spot colour') is created by mixing specified amounts of cyan, magenta, yellow and black inks (also known as 'process colours'). Therefore if it's not possible to use a Pantone spot colour in a particular job, the same colour can be recreated using the process equivalents.
A supporting palette of colours is also available to compliment Avanti Blue, all found within the Avanti Crest. These colours can also be used in 'tints' (lighter shades) measured in percentages of the original colour, as shown below. Tints are well suited to background colours in tables, diagrams and charts.

Main Palette
The examples below show an approach to school branding that is formal and smart.
Avanti Blue
often serves as a background to the crest.
Avanti Purple
is a supporting colour, often serving as a background for headline lettering.
Avanti Yellow
is often used as a colour for text in headings or other standout messaging. The colour bar offers a rough guide to how colour is apportioned in the design of these types of high-profile visual communications. Colours used in other forms of communication can be varied according to audience and content.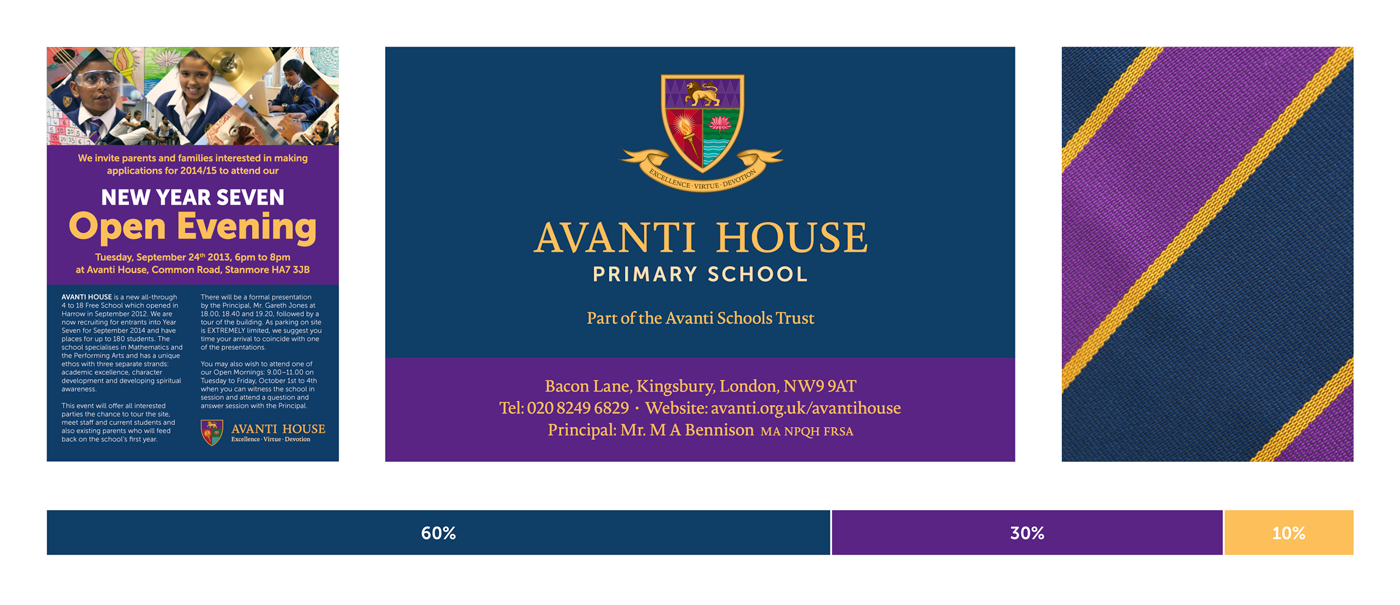 Brand Colour Codes with Tints
To use Avanti colours accurately in print or digitally on screen, colour reference codes are required. The chart below provides the original Pantone reference and the hexidecimal reference for web use. For day-to-day use in Microsoft Word and Powerpoint, see the associated documents within the visual identity pack.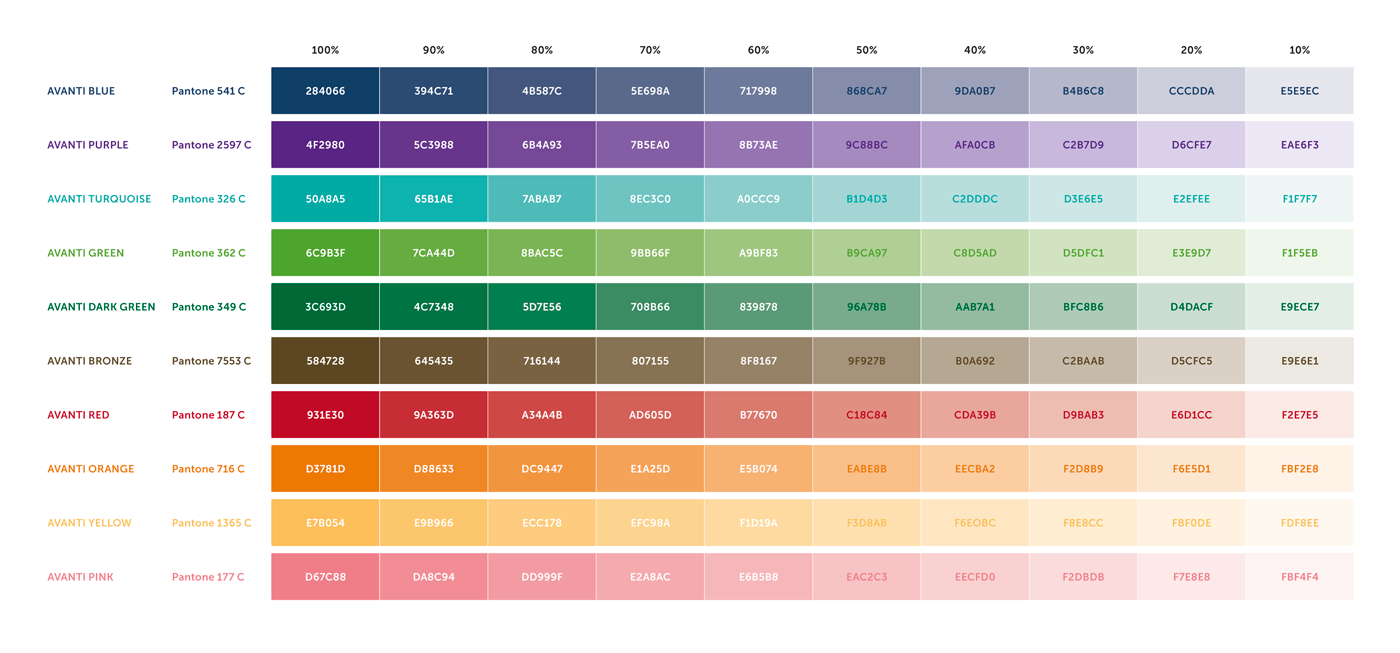 Avanti Pattern
The Avanti Pattern is based on the background to the torch image as found in the ceremonial version of the crest. In square tile form, this can be repeated to create patterned strips, sections or an entire background. The examples below are the most widely used variations used in Avanti design work.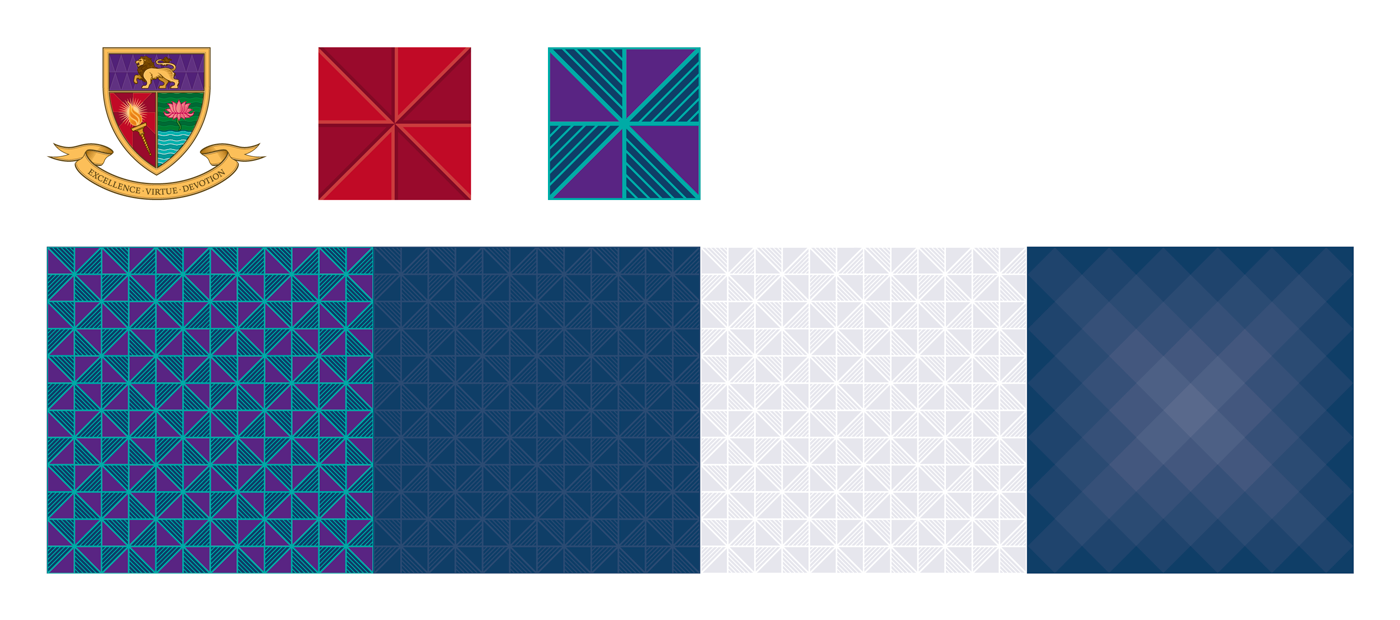 School Uniform and PE Kit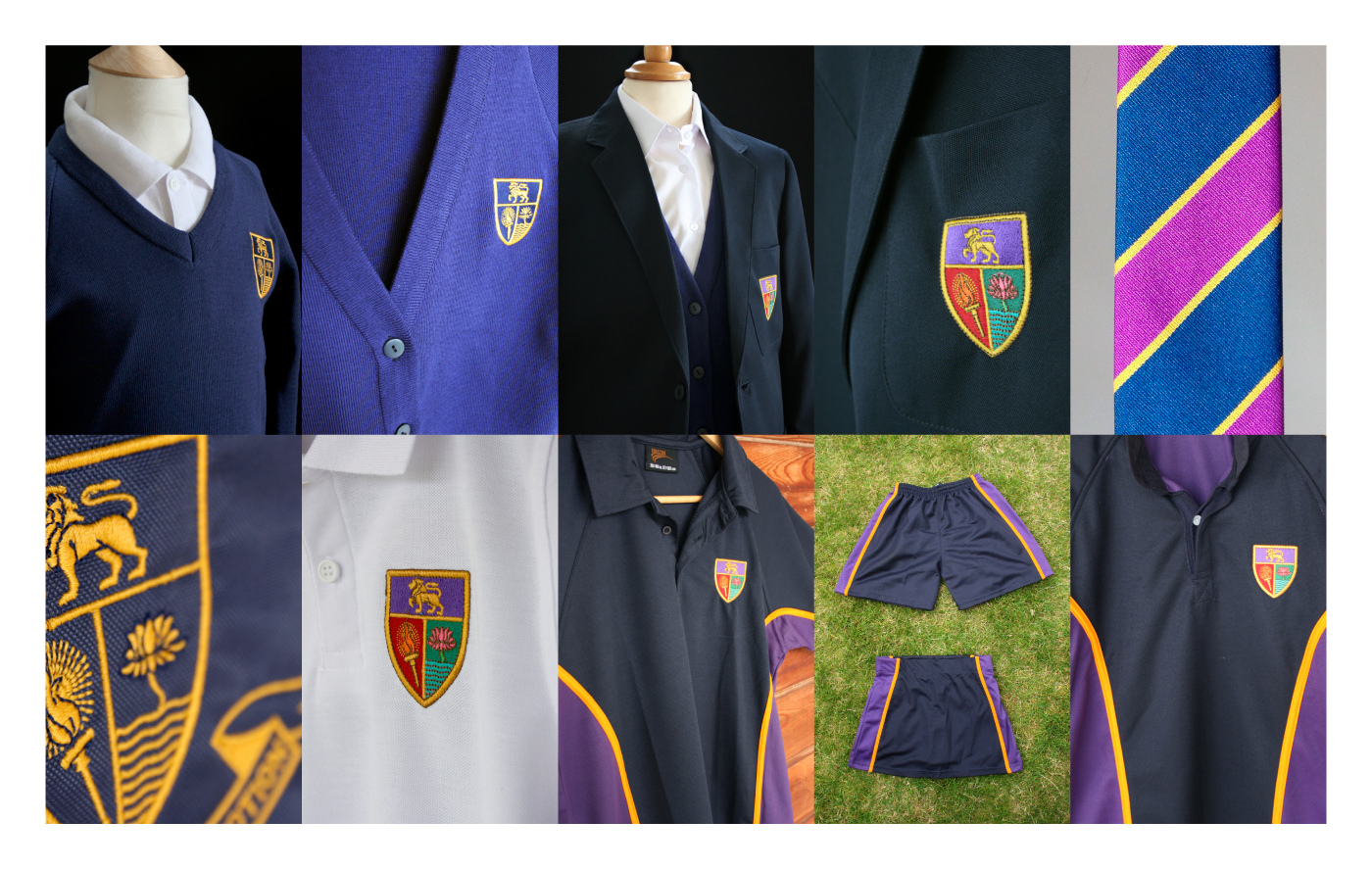 Formal Staff Options
Silk tie and silk scarf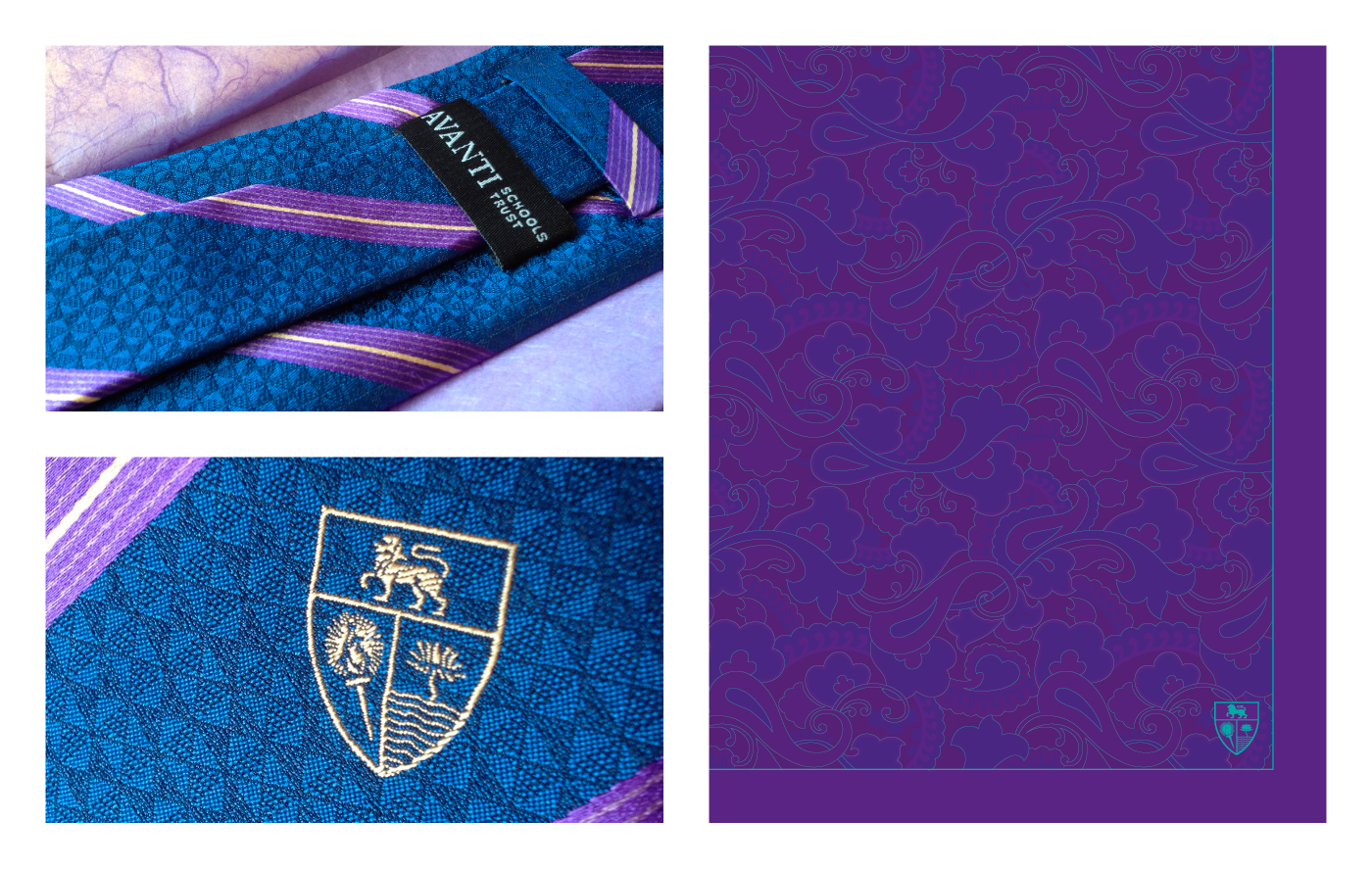 Football and Netball Team Branding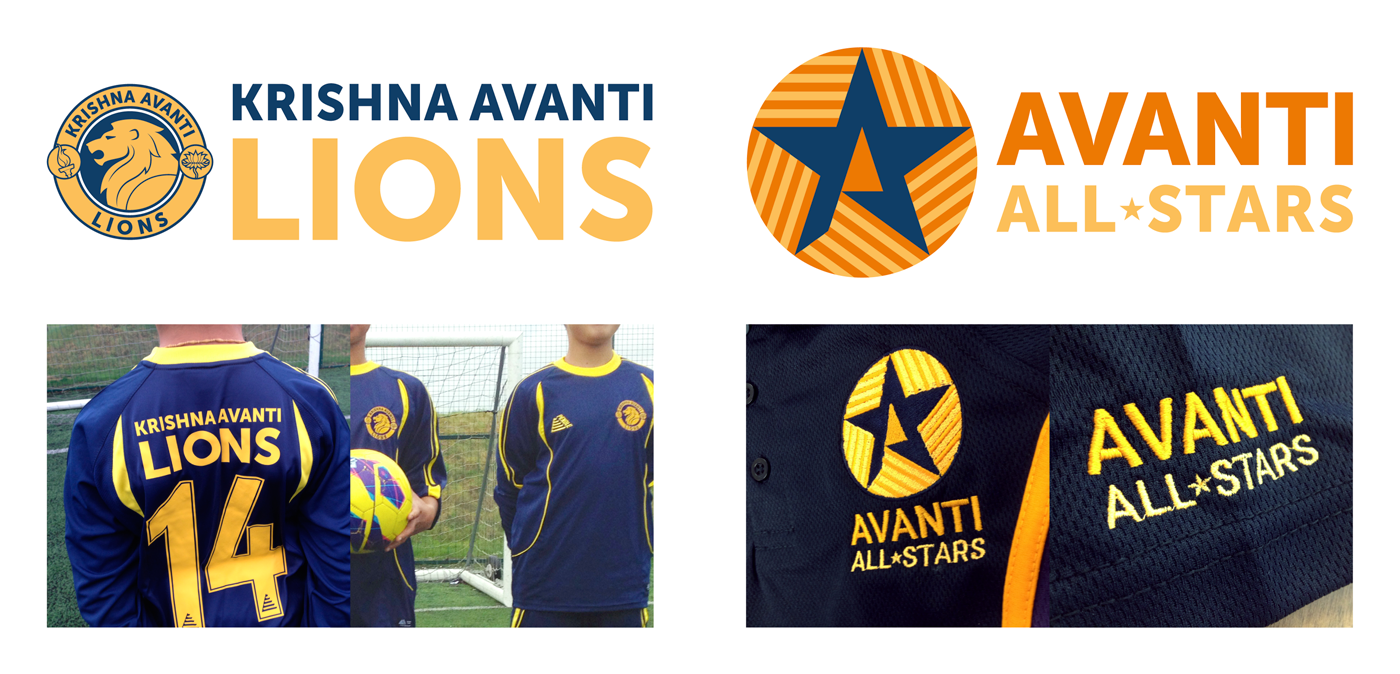 External and Internal Signage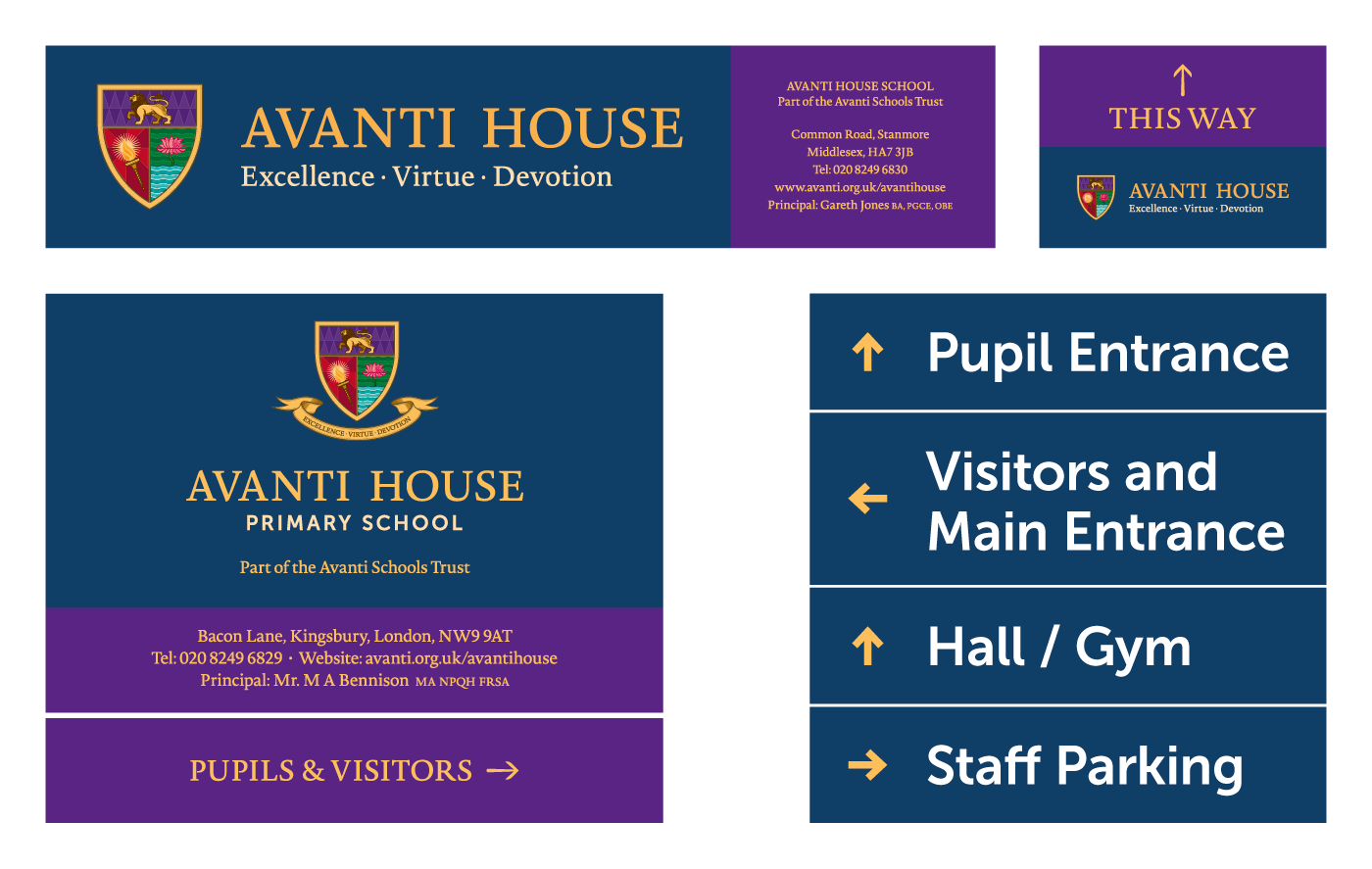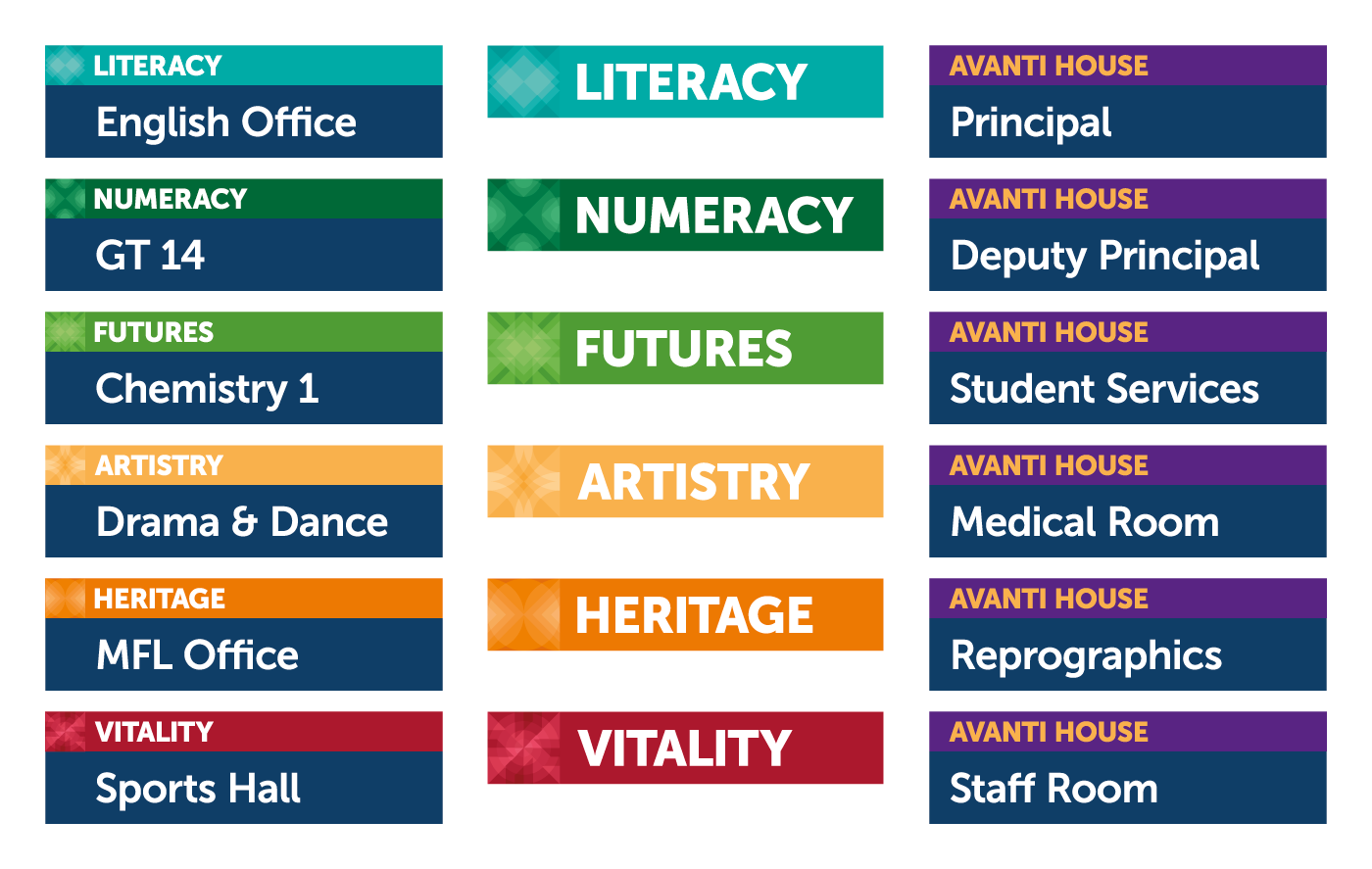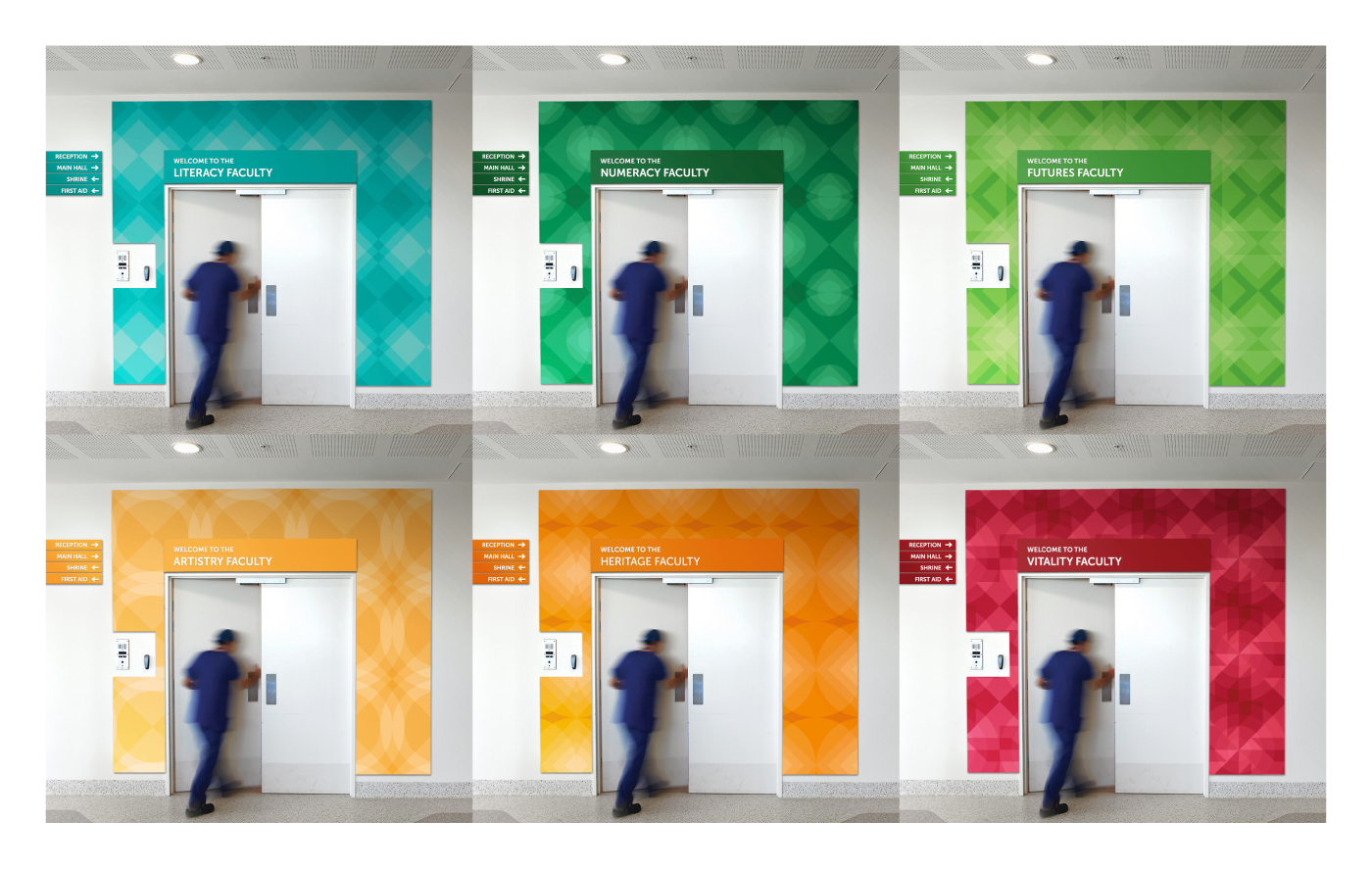 Primary School House Logos

Primary School Mascot
The lion found within the Avanti crest also plays the part of school mascot, and in this execution, has been illustrated to a style suitable for younger children. He makes a great ambassador and role model, and has even been awarded the name Subal – A sanskrit name meaning 'good boy'. Digital images of Subal are available on request.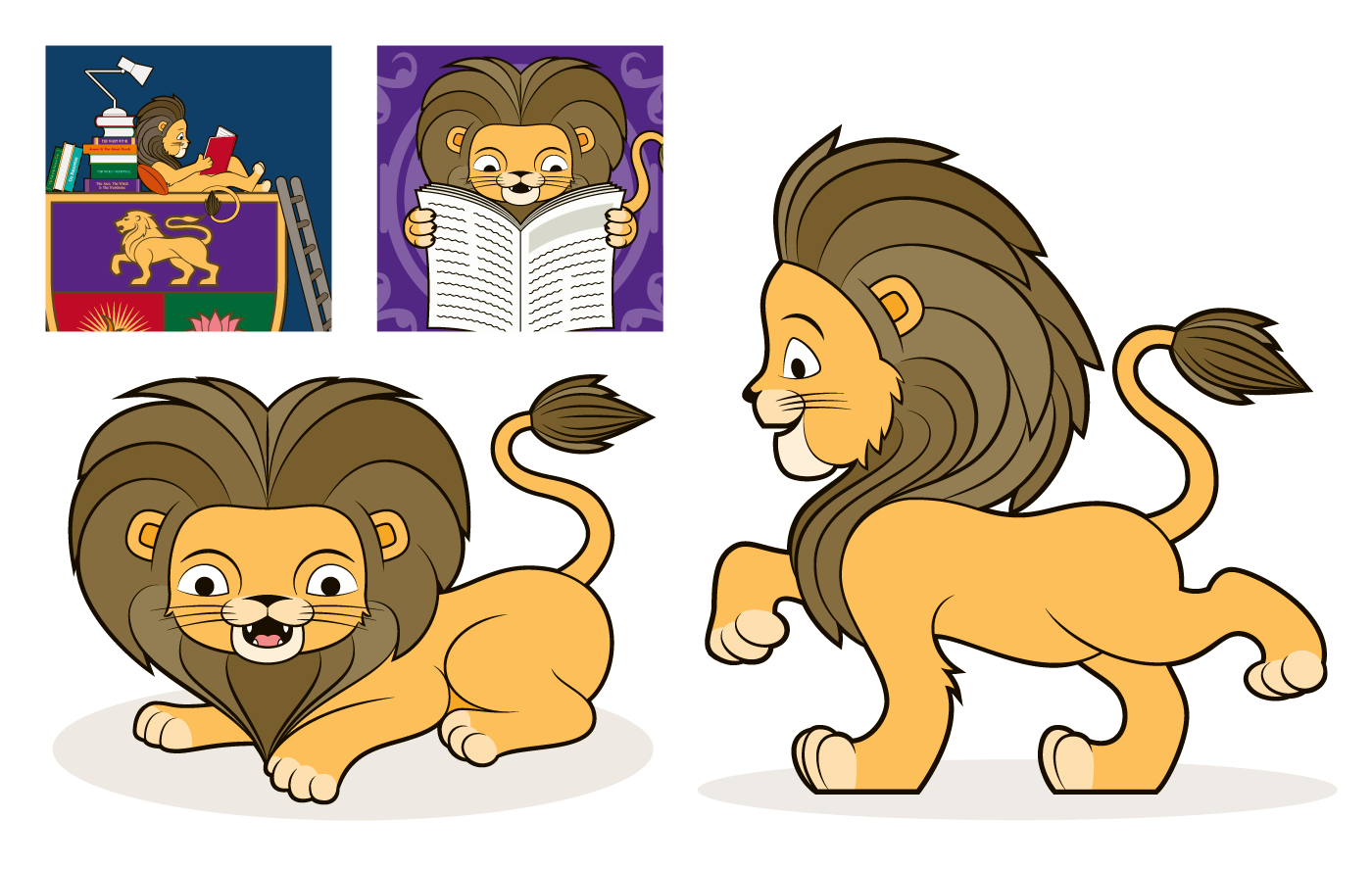 Design Template for Primary School Newsletter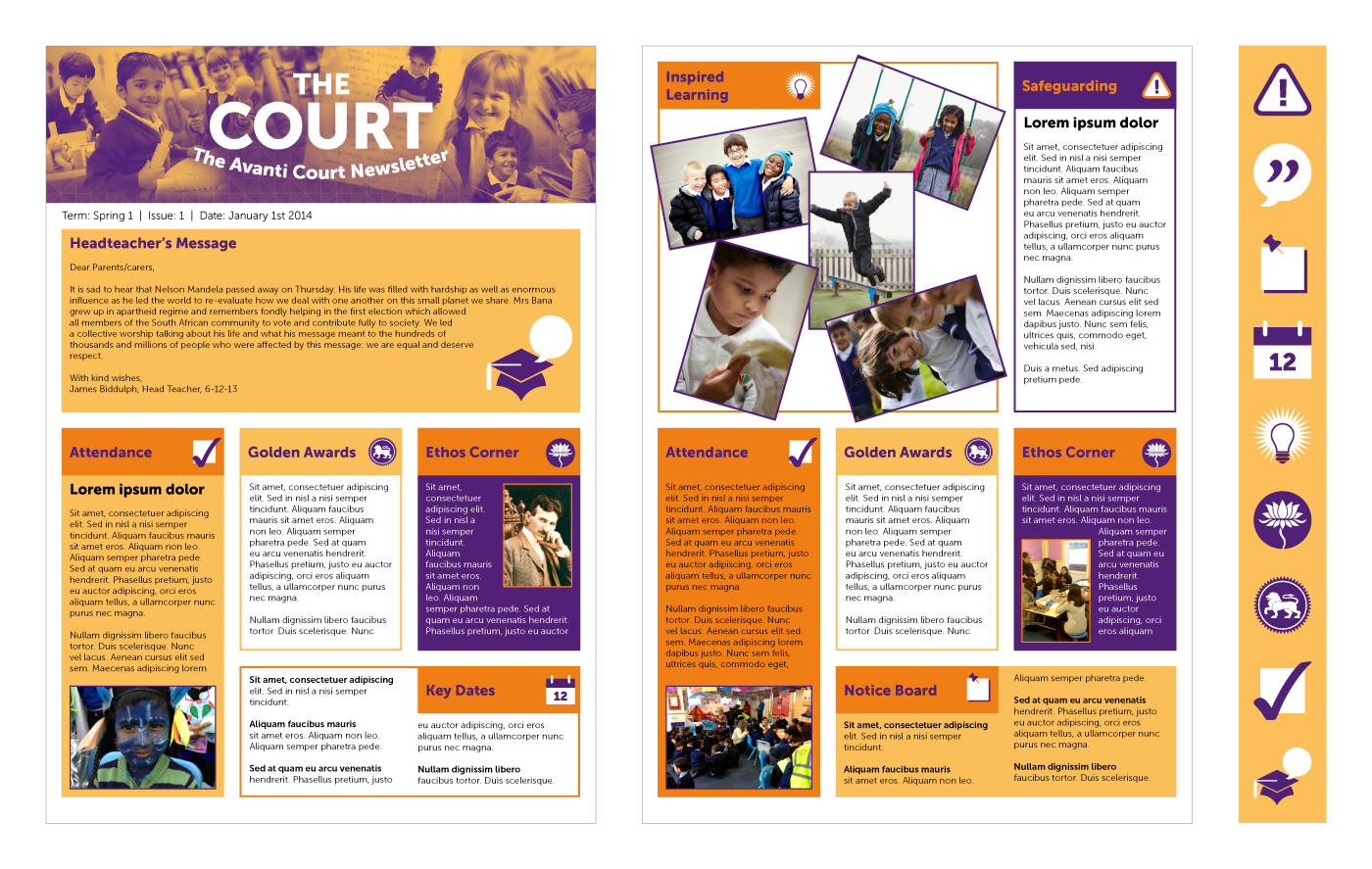 Typography in Documents
The guidance below applies to A4 documents created in Adobe and Microsoft programs. The style of typography is easy to apply and is suited to most policies, reports and communications set out in the Avanti school document or letterhead templates. Refer to Avanti Branding – a Visual Overview for further examples of prospectus, presentation and marketing collateral design, where a wider range of typographic styles are employed.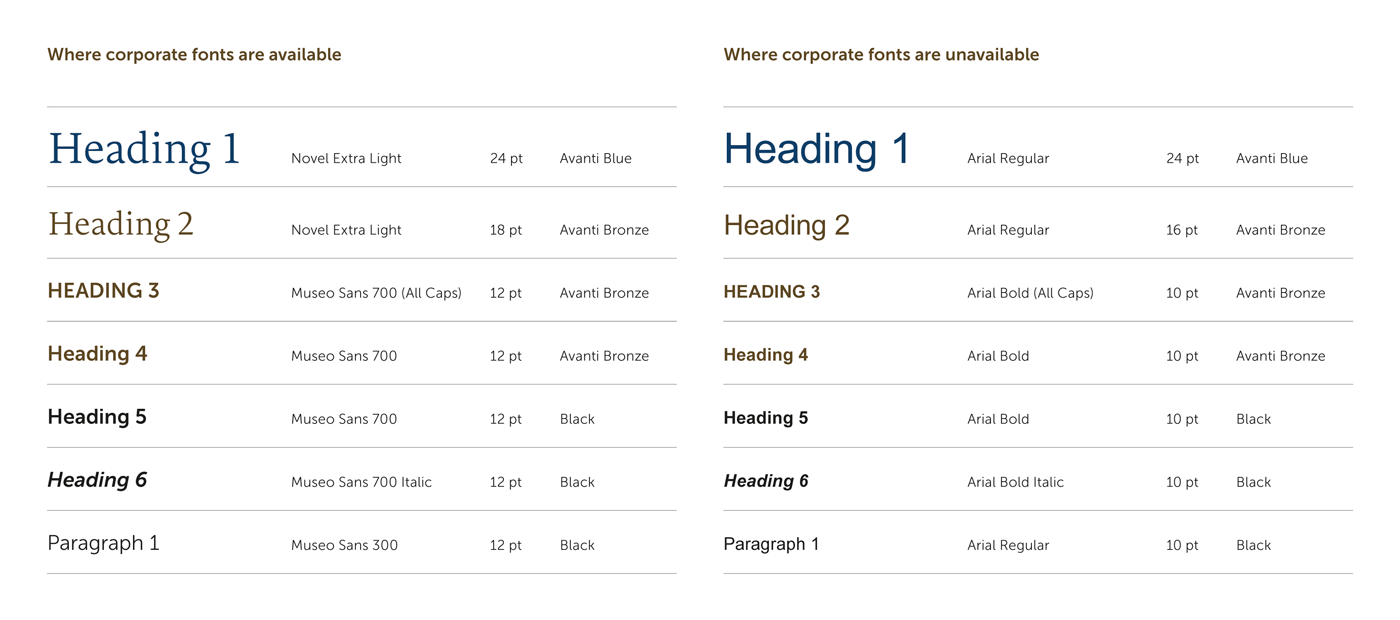 Avanti Grid
Integral to the Avanti Pattern are its grid-like proportions, which can be used as guidelines for design and layout. All Avanti school prospectus' and brochures, plus the Avanti Life magazines measure 210mm wide x 280mm high – a 3:4 ratio also used in PowerPoint presentations.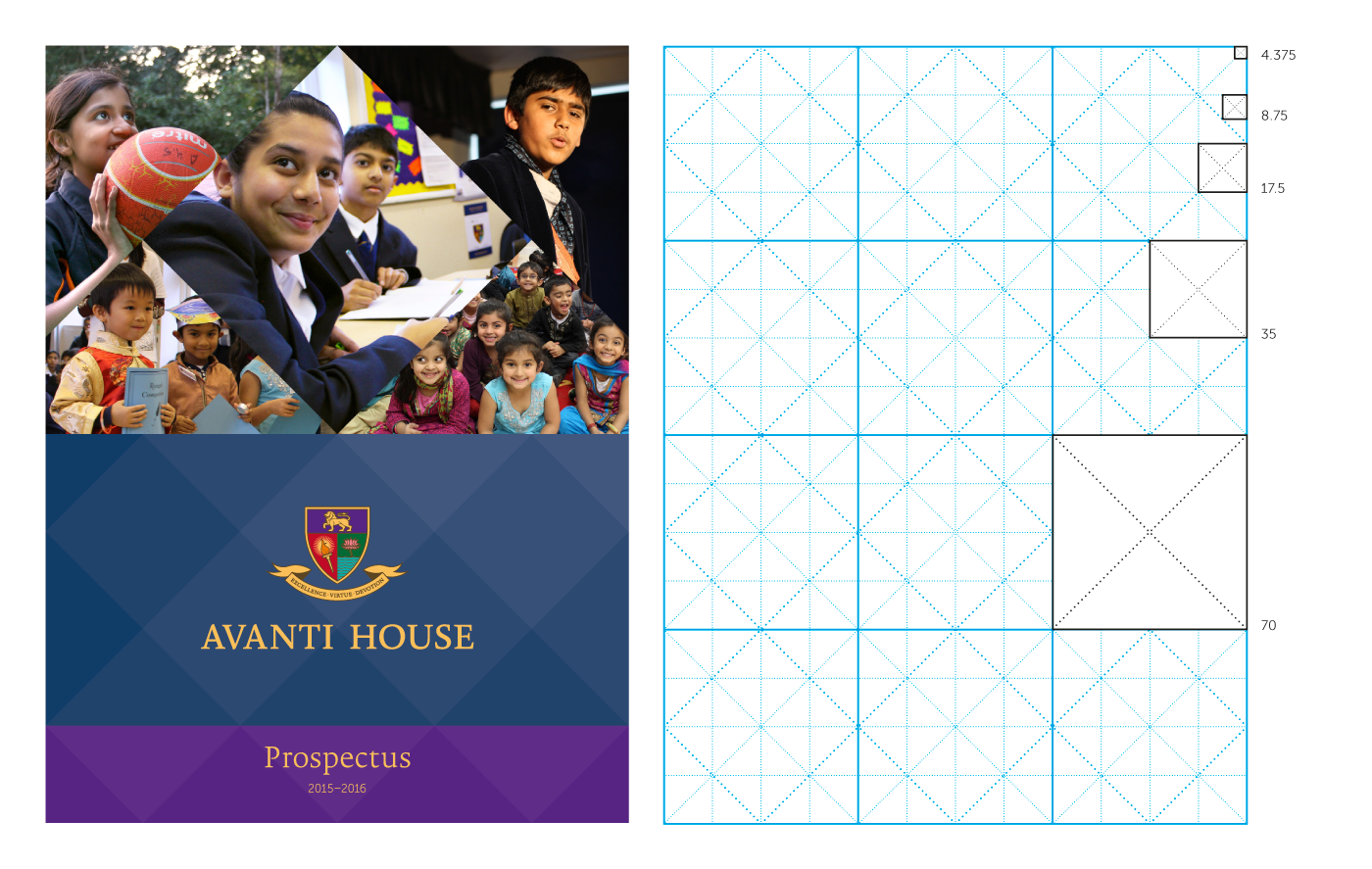 Landscape Presentation Template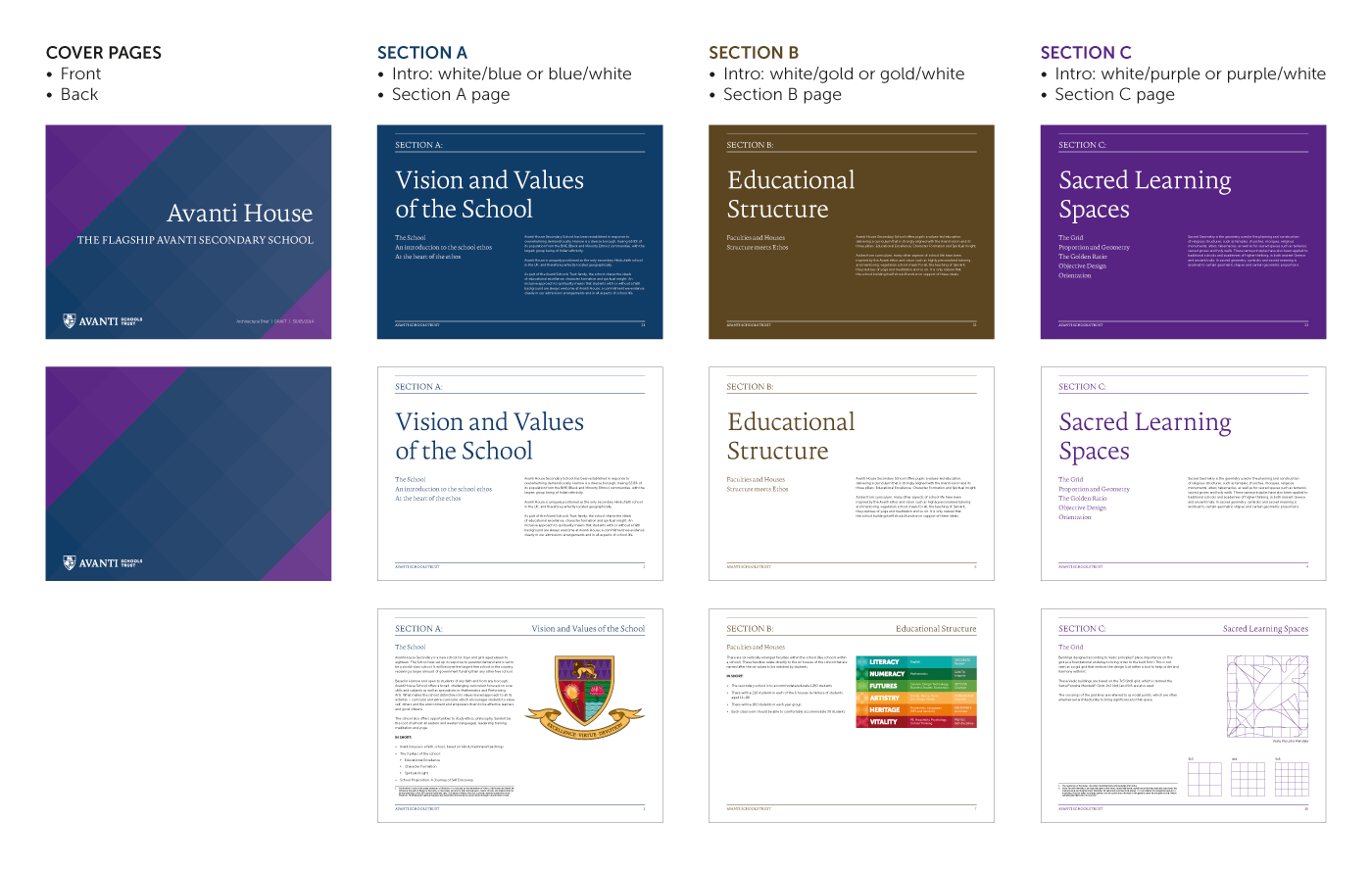 Design Templates for Primary and Secondary School Prospectus'